The Devils Bible in Prague
12.10.07 13:12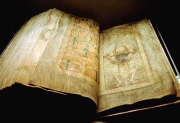 Codex gigas (The Giant Book), or The Devil's Bible, is available for visitors in Prague! The largest extant medieval manuscript in the world, created in the early 13th century in the Benedictine monastery in Bohemia, now returned to Prague after more than 350 years.
The Codex Gigas attracted already at the time of its creation extraordinary attention, not only due to its size (920 x 505 mm) and a respectable weight of 75 kilograms, but numerous speculations were also raised by the depiction of the Devil, to which a legend about a monk who was sentenced to death refers.
You can visit the exhibition in National Library of the Czech Republic (Klementinum building in Prague) until 6 January 2008.
You could be interested also in
Welcome at Mary's news Prague Blog. You can find here many actual and useful information about news in Prague, Prague sights, festivals, concerts, events and many other Czech news. Do not hesitate and comment the blog posts, recommend it to your friends through Facebook, or even send us tips of interesting topics you would like to read about in this blog about Prague. We offer awesome Old town Prague apartments or modern luxury apartments in New town.
Other Prague blogs
Other Czech Republic blogs