SaSaZu - dance, eat, party
30.11.10 16:23
Let me introduce you to the best and probably the biggest dance club in Prague! It is situated not right in the center, but in a very special district of Prague called Holesovice or Prague 7. This part of the city used to be a manufacturing area with lots of factories and storehouses. Among one of them SaSaZu club is situated. It has two main facilities: Dance club and a fabulous Restaurant.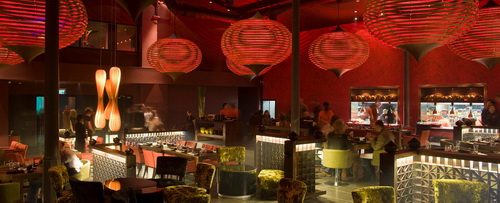 SaSaZu Restaurant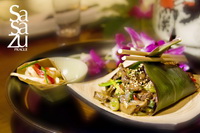 This one belongs to the most fancy and spacious restaurants in Prague. High ceilings, red interiors full of passion, comfortable seats, open space. Easy to eat and communicate. The restaurant specializes on the Thai cuisine. Award wining international Chef, Shahaf Shabtay, is currently dazzling Prague's palates with his SaSaZu dining concept. It is based on South East Asian Daily life and consists of 5 styles of Asian cuisine: SAMBAL, OTAK OTAK, FLAME, ROTI and TAI – TAI GRILL. The Chef received his degree from the prestigious École GRÉGOIRE-FERRANDI (EGF) in Paris. You can also learn from Shahaf and cook together! Once the course is finished, sit down and enjoy the dishes you've prepared. A wonderful and exciting experience for people of all ages and a great chance to show off to family and friends!
The menu is very multifarious. The prices start from 130, - CZK (approx. 6 euros). The dishes are really small, however have a very special taste that is absolutely unforgettable. I would definitely recommend you to start with a Gyoza duck: roasted pepper duck, cucumber and spring onion with spicy yakitori (130, - CZK) and than continue with Jasmine chicken roll: grilled spring roll with chicken, jasmine tea, shiso leaf, and mong bean (175, - CZK). Later you can drink a glass of wine with a dessert, the restaurant has a great choice of wines. Restaurant is also available for the corporate bookings.


SaSaZu Dance Floor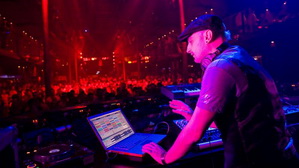 Actually the dance zone is divided to two floors with several bars on each of them. The music on the both of the floors is the same, in front of them is a stage, where the shows and performances take place. On the photo you can see Paul Van Dyk giving a set at SaSaZu.

Also this club is very popular among celebrities. For example Wayne Rooney with his wife was seen at the club this October.


Program
On the 17th of December at SaSaZu you can see the dutch DJ Laidback Luke. The cost of the tickets start from 590,- CZK.


New Year at SaSaZu.
Club SaSaZu is bringing the never seen before 3D Disco mega party to the Czech republic to celebrate the New Year´s with an amazing show on a 12 x 3m 3D screen under the direction of Novak collective DJ and London VJs. All guests receive 3D glasses and the last day of this year comes alive. There will be a digital "tree of life" growing in the middle of the club and little android will be the host of the night taking you from many musical evergreens to the most modern sounds of this age. The price of the tickets starts from 1299,- CZK. All inclusive tickets are for 5000,- CZK.
You could be interested also in
Welcome at Mary's news Prague Blog. You can find here many actual and useful information about news in Prague, Prague sights, festivals, concerts, events and many other Czech news. Do not hesitate and comment the blog posts, recommend it to your friends through Facebook, or even send us tips of interesting topics you would like to read about in this blog about Prague. We offer awesome Old town Prague apartments or modern luxury apartments in New town.
Other Prague blogs
Other Czech Republic blogs