Antique shops in Prague
27.12.10 14:38
If you are looking for some special gifts or you are simply fond of collecting some antique stuff, you can have a short tour throgh the anique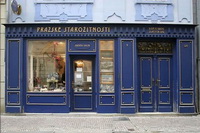 shops or flea markets of Prague. I don`t think that i will surprise you if I say that Prague is really full of such places where you can buy antique jewellery, furniture, vases, books etc. So this article is for people, who like to buy things, which have their own history, which are old and rare to find.


Antikvita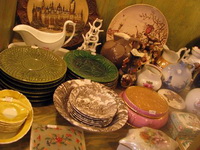 In a very center of Prague, you can find the shop called Antikvita. It has a wide range of antigue stuff. For example you can find here: glass, porcelain, paintings, statuettes, watches and clocks, toys, lamps, silver items and other antiquities especially from 19th and 20th century. The store was opened in 1990 and the staff hasn`t changed since that time. That`s why their clients are full of confidence when bying some things from this shop. Antikvita cna be found here: Na Hutích 9, Prague 6 – Dejvice or at their website www.antikvita.cz


AntiqueAndrle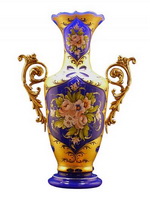 This store was founded by Vladimír Andrle in 1990.
The company offers Czech glassware and has a great collection of the antique jewellery in Prague. It also offers paintings, quality chinaware, furniture and various decorative items. The varied assortment certainly captivates every collector of pocket and wristwatches. You can find the shops here: Platnéřská 6, 110 00 Prague 1 or at their website www.antiqueandrle.cz


Flea markets of Prague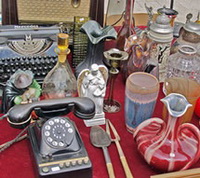 There are two famous flea markets in Prague. One of them is organized on the Miru Square just near the St. Ludmila Cathedral. Here you can find everything starting clothing till vases and decorative items. However you can hardly ever find furniture on the flea markets. This market usually opens at the end of April and the season ends at the end of October.


The other market is situated at the Riverbank of Vltava between Palackého Square and the tram station - Vyton.

 You can take any of these trams to get there: 3, 7,16,17, 21. The market takes place every first and third Saturday of the month. The last flea market of this year will take place on Saturday 18th of December. And if you want to impress your friends with some special gifts for the New Year, it might be a great idea to visit this place on Saturday.



officine panerai


wrote at 05.09.2012 03:57
The growing acceptance of replicas has given the industry a respectable expansion. Name a model of a brand and you can find a replica with ease. You are always a winner when you boost your self-confidence and add to your style at dirt cheap price. And above all , when your earnest desires get so easily fulfilled.
paulsmithfashion

wrote at 13.05.2012 04:31
Dsquared Clothing Dsquared Hoodies Dsquared Jeans Dsquared Shoes Dsquared Sweater Dsquared T Shirt Dsquared Belt Dsquared Women Heels Shoes Dsquared Cap Dsquared Jacket Dsquared Polo Shirt Dsquared Shirt Dsquared Pants Dsquared Swim Dsquared Coat Moncler Doudoune Moncler Shoes Moncler Vest Moncler Coat Moncler Jacket Moncler Hoodies Moncler Sweater Moncler Polo Shirt Moncler Down Jacket Moncler Boots Moncler Cap Moncler Down Jacket Moncler Pants Moncler Shorts Moncler Kids Belstaff Leather Belstaff Bag Belstaff Leather Jacket Belstaff Leather Jacket Men Belstaff Leather Jacket Women Belstaff Women Jacket Tory Burch Shoes Tory Burch Tote Bag Tory Burch Wallet Tory Burch Flat Shoes Tory Burch Sandals Tory Burch Suede Shoes Tory Burch Boots Tory Burch Heels Shoes Tory Burch Wedge Shoes Tory Burch Flip Flops Tod's Shoes Tod's Ballet Shoes Tod's Boots Tod's Fall Shoes Tod's Handbag Tod's Loafers Tod's Moccasins Juicy Couture Clothes Juicy Couture Tracksuit Juicy Couture Flip Flops Dsquared2 Men Dsquared2 Hoodies Dsquared2 Jacket Dsquared2 Jeans Dsquared2 Shoes Dsquared2 T Shirt Docle Gabbana Brand Clothes
xanxeeb


wrote at 06.02.2011 17:59
I'm showcasing the best of the best antique quilts here, many that are extremely rare. I will delicate french laces including Normandy and Point de Gaze, fine Italian and French linens, whimsical feedsack pieces from the depression era and so many things that will make your house a home. Antique quilts
Comment This Post:
Also in this category:
Antique shops in Prague
Shopping in Prague
SaSaZu - dance, eat, party
Back to blog list
You could be interested also in
Welcome at Mary's news Prague Blog. You can find here many actual and useful information about news in Prague, Prague sights, festivals, concerts, events and many other Czech news. Do not hesitate and comment the blog posts, recommend it to your friends through Facebook, or even send us tips of interesting topics you would like to read about in this blog about Prague. We offer awesome Old town Prague apartments or modern luxury apartments in New town.
Other Prague blogs
Other Czech Republic blogs