Shakespeare at the Prague Castle – all summer
08.08.07 10:17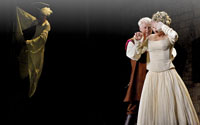 For the eleventh time You can enjoy the Summer Shakespeare festival – a programme originally iniciated by former Czech president, Mr Vaclav Havel. The open air performances takes place this year on two stages within Prague (Lichtenstejn Palace and in the Prague Castle), other in Brno and Bratislava. The newswest addition to the festival is the As You Like It, but you can enjoy the fabulous performance of such classics as the Othello, The Merchant of Venice, the Twelfth Night, and the Tempest. The productions can be seen until 14th September.
You could be interested also in
Welcome at Mary's news Prague Blog. You can find here many actual and useful information about news in Prague, Prague sights, festivals, concerts, events and many other Czech news. Do not hesitate and comment the blog posts, recommend it to your friends through Facebook, or even send us tips of interesting topics you would like to read about in this blog about Prague. We offer awesome Old town Prague apartments or modern luxury apartments in New town.
Other Prague blogs
Other Czech Republic blogs