Charles University in Prague - 660 years of existence
08.04.08 09:42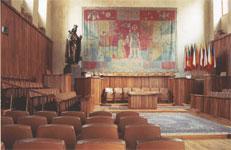 This year the Charles University, the oldest university of Central Europe celebrates the 660th year from its establishment. It was founded by king IV. Charles on 7 April 1348 as a "first university (studium generale) to the north of the Alps and to the east of Paris". The university consisted then of four faculties: faculty of arts, faculty of law, faculty of theology and faculty of medicine. Today, after its interesting history and development (which brought many times conflicts with the actual retardant political regime) the university contains 17 faculties (3 outside Prague) and is still the main university of the Czech Republic.
The university prepared many programmes for this significant event - both for students, teachers and publicity.
For detailed information please visit the University's website.
You could be interested also in
Welcome at Mary's news Prague Blog. You can find here many actual and useful information about news in Prague, Prague sights, festivals, concerts, events and many other Czech news. Do not hesitate and comment the blog posts, recommend it to your friends through Facebook, or even send us tips of interesting topics you would like to read about in this blog about Prague. We offer awesome Old town Prague apartments or modern luxury apartments in New town.
Other Prague blogs
Other Czech Republic blogs