Aquapalace Prague
12.07.10 13:27
Hot summer days not only let us get tanned or give us energy to do things we weren't strong enough to do in winter or spring. They can also get pretty annoying which is the time you would just wish to find a place to cool your heated body off. Problem solved at the Aquapalace Prague – most probably the best aquapark in the capital of Czech.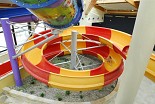 Water, water, water.
Oh yeah, and I forgot water... That's what makes us feel cooool in hot days of July and August... Loads of freezing, nicely cold up to warm water you may enter in this extraordinary entertainment center. Six toboggans and three slides will take care that your stay is very interesting. Well, no. They will make your stay just interesting, while the spacebowl or outdoor wild river will make your stay terribly interesting. :)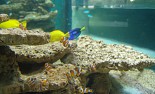 Observing sea animals
For those interested in animals let us give you a note that there is a submarine fauna and an aquarium with all kinds of whales, crocodiles and sea sharks you can try to escape (just kidding)... :) But seriously now, there really is an aquarium with some really cute little kinds of sea inhabitants, so make sure to check them out. And yes, they do have cliff sharks there also, but don't worry; they're behind a goddamn thick layer of glass :)
Fun for divers and children

If you're a diving fanatic, you can try out the 8 meters deep diving pit with an instructor. Let us know what you've seen down there, none of us has ever had the courage to go down there. :( If you're here with your family, the children's water playgrounds with slides or a pool with a shipwreck will magnetize your children for sure. ;) This is right the place for them to run out of their usual extra energy. :)
Other than water services

The Aquapalace Prague is a huge complex of other things to do than swimming, diving or hunting sharks :). They do have a very nice looking fitness center where you can turn your body into extraordinary shapes. The services are wide, from bodybuilding through aerobic to pilates. Another part of the complex other than fitness is spa with its regeneration procedures of massage, solaria, manicure, make-up and other techniques of weird names which I have no idea what mean... :) But I'm sure ladies are gonna like them...
In summer, you get a whole day ticket to the water world for an adult for 650 CZK and 430 for a child. A family of 2 adults and 1 to 3 children will pay only 1370 CZK. For students the prices are a little lower than for other adults with 530 CZK. Prices in working days out of holiday season are lower than that. For these and other prices see the Aquapalace pricelist.
If You do not live in Prague, probably You would need accommodation as well. The good news is, it is not a problem at all, as the Aquapalace complex has its own Aquapalace hotel.
You could be interested also in
Welcome at Mary's news Prague Blog. You can find here many actual and useful information about news in Prague, Prague sights, festivals, concerts, events and many other Czech news. Do not hesitate and comment the blog posts, recommend it to your friends through Facebook, or even send us tips of interesting topics you would like to read about in this blog about Prague. We offer awesome Old town Prague apartments or modern luxury apartments in New town.
Other Prague blogs
Other Czech Republic blogs