Welcome to CIRQUE de GLACE!
17.01.11 10:31

Ice Show that you have never seen before - In most of countries all over the world nowadays it is popular to watch some Tv series about skating: celbreties skating with proffesional sportsmen, celebreties skating with each other, real skating championships. All of these shows are a great performance. However we can watch it only on TV. But what is it like to see it with your own eyes? This is a really magnificent and very exciting experience.

"As flashy as Las Vegas" – The Times
The CIRQUE de GLACE ice show had a great success in Great Britain. Now the show is on its way to the Czech Republic for the first time. There will be a few shows in Prague and in other cities of the country.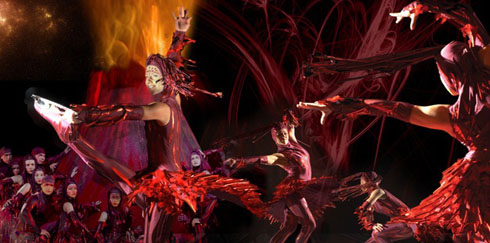 Projection as well as choreography have been specially adjusted and enlarged for the Czech ice stadiums. Also Cavalieri Giuseppe Arena, an Italian choreographer, is preparing brand new, even more spectacular choreographies for the Czech audience.

The main artists of the show include the stars of the Russian ice-skating school – winners of many world championships who will perform the beautiful story of the birth of the Earth with other artists from all over the world. It is a magical story about the creation of the worlds from the very beginning when there was only fire and ice through the ancient dawn of the epochs full of mythic creatures up to the technical civilization of today.

CIRQUE de GLACE brings beautiful decorations and costumes, a great story and breathtaking sports performances of the ice-skaters and acrobats in the style of a modern circus. They will show their amazing tricks almost without any protection.and the ice-skaters will be hanging high above the heads of the spectators. The magical atmosphere of CIRQUE de GLACE is surrounded by music and an energy-sparkling drummer directly on the scene.

CIRQUE de GLACE is a great entertaining ice show for the whole family, wide cultural public, fans of true sports performances as well as modern artistic movements.


Rates and dates:
8.2.2011, 19:00, ČEZ ARENA PARDUBICE

11.2.2011, 19:00, TESLA ARENA PRAHA HOLEŠOVICE
12.2.2011, 14:30, TESLA ARENA PRAHA HOLEŠOVICE
12.2.2011, 19:00, TESLA ARENA PRAHA HOLEŠOVICE

13.2.2011, 15:00, HALA RONDO BRNO
13.2.2011, 19:30, HALA RONDO BRNO

15.2.2011, 19:00, ČEZ ARENA OSTRAVA

16.2.2011, 19:00, ZS. LUĎKA ČAJKY ZLÍN

18.2.2011, 19:00, KV ARENA KARLOVY VARY

All the tickets may be purchased in Ticketrpro, Ticketportal, Ticketart
The price of the ticket starts from: 295,- CZK.


situaios

wrote at 27.11.2012 06:14
Success brings with www.longchamp.com its disadvantages.Mulberry Hobo world has learned since,if mulberry outlet uk did not know it then,that one hundred and fifty sailors,used to thehard work and deprivations of a seafaring life,would be a much moreefficient force for purposes of discovery,than a thousand and morecourtiers who have left the presence of mulberry tree king and queen in longchamp le pliage hope ofpersonal advancement or of romantic adventure.Those dainty people,whowould have been soldiers if there were no gunpowder,are not men tofound states;and www.salelongchamp.netmen who have lived in the ante-chambers of courtsare not people who co-operate sympathetically with an experienced manof affairs like Columbus.To the same misfortune,probably,do weowe it that,for a history of this voyage,we have no longer authority socharming as the simple,gossipy journal which Columbus kept through thefirst voyage,of which the greater part has happily been preserved.It maybe that he was too much pressed by Mulberry Handbagsvaried duties to keep up such ajournal.For mulberry outlet online is alas!an unfortunate condition of human life,that Mulberry Cross Body ,aremost apt to write journals when they have nothing to tell,and that in themidst of high activity,the record of that activity is not made by the actor.
Comment This Post:
Also in this category:
Best Prague gardens
Welcome to CIRQUE de GLACE!
Jazz Dock
Back to blog list
You could be interested also in
Welcome at Mary's news Prague Blog. You can find here many actual and useful information about news in Prague, Prague sights, festivals, concerts, events and many other Czech news. Do not hesitate and comment the blog posts, recommend it to your friends through Facebook, or even send us tips of interesting topics you would like to read about in this blog about Prague. We offer awesome Old town Prague apartments or modern luxury apartments in New town.
Other Prague blogs
Other Czech Republic blogs