Best Prague gardens
15.04.11 10:53
As you see in Prague it is getting warmer and warmer, the sun is shining brightly and instead of sitting in a bar we choose to have a walk through the city. However there are dozens of tourists in the street, so may be you would like to find more peaceful and romantic place to have a rest. Let`s have a look over the parks and gardens of Prague.
Vyšehrad (Eng. Uptown)
This park is situated a few subway stations from the center of the city, however a couple of centuries ago this place used to be the heart of the city. On the very top of the park there is a castle, where mass is held every Sunday. Near the castle there is a cemetery, where a lot of Czech famous people are buried. For example you can find there a grave of Antonin Dvorak or Franz Kafka. Besides, there is a magnificent view over the city from Vyšehrad. There are also a few cafes there, so you may have a bit out there.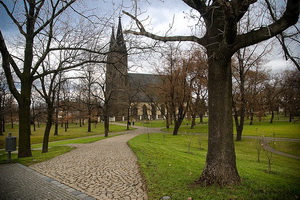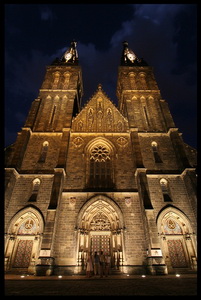 Petřín Gardens
On the opposite side of the river there is an area called Újezd, where Petřín Gardens are situated. They lay on the huge territory, so you can find there both a lawn, where you can have a picnic, and a shadow place, where you can hide from the eyes of the park visitors. Undoubtedly this park is called a place of lovers. So keep in mind: if somebody invites you to have a walk there, that should mean something! Besides, this park has a few attractions. The first one is a memorial to the victims of communism (you can see it on the picture). The second one is a funicular railway that consists of two trams, which will easily get you to the top of the hill, where you can find an observatory, a Czech version of Eiffel Tower and a little castle with lots of distorting funny mirrors. All of these places are opened for tourists. At Petřín Gardens there are also a few restaurants, where you can have a delicious meal.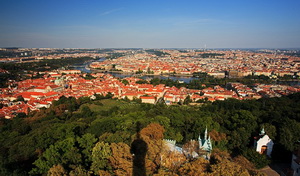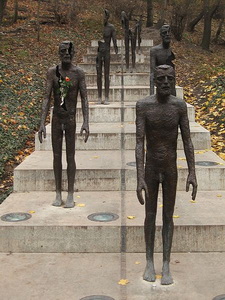 Divoká Šárka
Away from the center there is a very unusual place called Divoká Šárka. It is a huge park on the way to the airport, where you can have a walk through the beautiful canyons covered with rocks from the outside. The park is very special, however the majority of it is not illuminated, so be aware that you will manage to get out from the heart of the park until the sung goes down.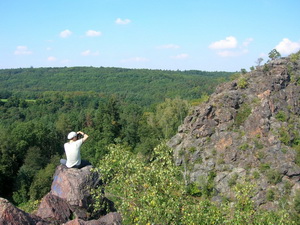 Barbora

wrote at 26.01.2015 22:28
I like your post very much, one does not read about Prague´s gardens too often. You should not miss the barogue gardens under the Castle either. I shared link to your blog on my post about Prague (tips what to see and good websites like yours). https://czechmenu.wordpress.com/2015/01/26/come-to-prague/
mulberry outlet

wrote at 27.11.2012 06:12
Success brings with www.longchamp.com its disadvantages.Mulberry Hobo world has learned since,if mulberry outlet uk did not know it then,that one hundred and fifty sailors,used to thehard work and deprivations of a seafaring life,would be a much moreefficient force for purposes of discovery,than a thousand and morecourtiers who have left the presence of mulberry tree king and queen in longchamp le pliage hope ofpersonal advancement or of romantic adventure.Those dainty people,whowould have been soldiers if there were no gunpowder,are not men tofound states;and www.salelongchamp.netmen who have lived in the ante-chambers of courtsare not people who co-operate sympathetically with an experienced manof affairs like Columbus.To the same misfortune,probably,do weowe it that,for a history of this voyage,we have no longer authority socharming as the simple,gossipy journal which Columbus kept through thefirst voyage,of which the greater part has happily been preserved.It maybe that he was too much pressed by Mulberry Handbagsvaried duties to keep up such ajournal.For mulberry outlet online is alas!an unfortunate condition of human life,that Mulberry Cross Body ,aremost apt to write journals when they have nothing to tell,and that in themidst of high activity,the record of that activity is not made by the actor.
catherine

wrote at 09.02.2012 11:08
Prague is such a beautiful city. That last photo is lovely. Wish I was there now.
Comment This Post:
Also in this category:
Best Prague gardens
Welcome to CIRQUE de GLACE!
Jazz Dock
Back to blog list
You could be interested also in
Welcome at Mary's news Prague Blog. You can find here many actual and useful information about news in Prague, Prague sights, festivals, concerts, events and many other Czech news. Do not hesitate and comment the blog posts, recommend it to your friends through Facebook, or even send us tips of interesting topics you would like to read about in this blog about Prague. We offer awesome Old town Prague apartments or modern luxury apartments in New town.
Other Prague blogs
Other Czech Republic blogs