Spring and Flowers
06.04.11 14:28
In Prague it is already warm and shiny.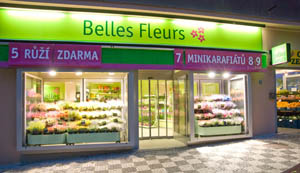 People are walking through the city and enjoying spring. Soon the grass will be absolutely green and plenty of flowers will be seen here and there. But what to do if you want o buy a branch of tulips for your fiancée while visiting Prague?
Of course there are a few shops at the Wenceslas Square, however they are rather expensive and have a very poor range of flowers to choose. So in this article I am going to tell you a few places where nice flowers can be bought.

The first shop that comes to my mind is Belles Fleurs, which is a filial of the famous UK flower shop branch. This shop offers a really wide range of wonderful flowers and already prepared bouquets. Here you can find some luxury variants and a branch of roses can be bought rather cheaply as well. The stuff is really friendly and ready to advise you what flowers to buy for your kind of occasion. In a few seconds they are able to make a fantastic present using a couple of their magic tricks. By the way the stuff speaks English. And if you don`t have time to visit the shop yourself, you can go directly to their website, choose the flowers and leave the address where they need to be delivered – very convenient and comfortable for you.

Address:
Bělehradská 124, Prague 2 (near I.P. Pavlova Metro Station)
Milady Horákové 39, Prague 7
Opening hours: Mo – Sun 07:30 – 20:30




Another option is to visit one of the shops Holland Flowers. Here you can choose among different types of flowers: traditional roses or colourful lilies. All the flowers are just of ideal shape and colour, however they may be a little bit more expensive than the previous variant. But the benefit of this branch of shops is that you can find them in the majority of the Prague Shopping centres, such as Palladium, Chodov, Pankrac and Flora. They also have their website, so you can buy the flowers online.

Address:
Náměstí Republiky, Prague 1 (Palladium shopping centre)
Vinohradská 151, Prague 3 (Flora shopping centre)
Na Pankráci 86, Prague 4 (Pankrac shopping centre)
Roztylská 2321/19, Prague 4 (Chodov shopping centre)
Řevnická 1, Prague 5 (Metropole Zlicin shopping centre)
Opening hours: Mo-Sun 09:00 – 21:00


mulberry outlet

wrote at 27.11.2012 06:12
Success brings with www.longchamp.com its disadvantages.Mulberry Hobo world has learned since,if mulberry outlet uk did not know it then,that one hundred and fifty sailors,used to thehard work and deprivations of a seafaring life,would be a much moreefficient force for purposes of discovery,than a thousand and morecourtiers who have left the presence of mulberry tree king and queen in longchamp le pliage hope ofpersonal advancement or of romantic adventure.Those dainty people,whowould have been soldiers if there were no gunpowder,are not men tofound states;and www.salelongchamp.netmen who have lived in the ante-chambers of courtsare not people who co-operate sympathetically with an experienced manof affairs like Columbus.To the same misfortune,probably,do weowe it that,for a history of this voyage,we have no longer authority socharming as the simple,gossipy journal which Columbus kept through thefirst voyage,of which the greater part has happily been preserved.It maybe that he was too much pressed by Mulberry Handbagsvaried duties to keep up such ajournal.For mulberry outlet online is alas!an unfortunate condition of human life,that Mulberry Cross Body ,aremost apt to write journals when they have nothing to tell,and that in themidst of high activity,the record of that activity is not made by the actor.
Flowering Pear


wrote at 30.05.2011 08:40
Great post! Thanks for nice information to all.. Thanks for sharing with us..
Comment This Post:
Also in this category:
Beer Museum in Prague
Spring and Flowers
New York University in Prague – the best traditions of American education in Europe!
Back to blog list
You could be interested also in
Welcome at Mary's news Prague Blog. You can find here many actual and useful information about news in Prague, Prague sights, festivals, concerts, events and many other Czech news. Do not hesitate and comment the blog posts, recommend it to your friends through Facebook, or even send us tips of interesting topics you would like to read about in this blog about Prague. We offer awesome Old town Prague apartments or modern luxury apartments in New town.
Other Prague blogs
Other Czech Republic blogs