Selected prints of Andy Warhol in Prague
01.08.07 13:46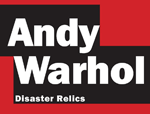 The Museum Kampa in Prague (the Jan and Meda Mládek Foundation) in cooperation with the Andy Warhol museum in Pittsburgh is presenting an exhibition of selected prints of Andy Warhol. The exhibition titled "Disaster Relics" deals with the theme of catastrophes. Many of these works belong to a series which was created at the beginning of the nineteen sixties, they reflect Warhol's fascination of death as well as his obsession with "fifteen minutes of fame". The exhibition can be visited daily from 10.00am to 6.00pm, till 21 October 2007.
You could be interested also in
Welcome at Mary's news Prague Blog. You can find here many actual and useful information about news in Prague, Prague sights, festivals, concerts, events and many other Czech news. Do not hesitate and comment the blog posts, recommend it to your friends through Facebook, or even send us tips of interesting topics you would like to read about in this blog about Prague. We offer awesome Old town Prague apartments or modern luxury apartments in New town.
Other Prague blogs
Other Czech Republic blogs