Prague Open Air Pools
19.07.10 10:00
When deciding where to cool yourself down during a day of high temperatures and nonstop burning sun, you might consider trying out an open air pool rather than an aquapark. Not only is that for the price difference, but also for the fresh air and opportunity to get a tan under the sun. Prague has very clean open waters and the hygienic tests constantly prove that in the very most of them, it's safe also for little children and pregnant women to bathe in them. In this article, I will mention only natural water pools recommended by the recent hygienic tests.
Petynka
Petynka is out of all here mentioned open air waters the only artificially created pool. It's a pleasure to spend some time there and it's a source of true relaxation. The pool is heated at 24-28°C (75-82°F) which makes the water very comfortable. Beach volleyball, football tennis, table tennis... That's only a couple of sport opportunities you have in the pool complex. Wondering how to get there? Take a bus (108, 174, 180, 217 to "Na Petynce") or a tram (36 to "Hladkov"). Prices depend on the time of the year and day you visit the pool but they are usually around 100 CZK – see the table given on the linked page (unfortunately it's only in Czech).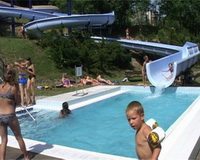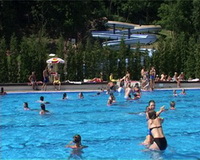 Dzban
Dzban, a dam of Prague 6, is a place with a grass-sandy beach which is being taken care of. The bottom is mostly sandy there. Beyond the sports you can do in the previous locations, in Dzban you can also play volleyball and... Wait for it... There's a nudist beach there. I know! Rock on! Big time... :) Well and how can the public transportation take you to Dzban? You'll need to get to the subway station Dejvicka which is on the A (green) line, then take a tram Nr. 20 or 26 t othe very final station called "Divoka Sarka" and then it takes a 10-minute walk. You could also take a bus; you've got a choice of bus lines Nr. 119, 218, 108, 179 and 225.
Motol
A pretty often visited open air pool is located in Prague – Motol, Zahradnickova Street. It's a small water area with a partly grassy shore... You can get something to eat there, play table tennis, casual tennis or if you're planning on going there with your kids, the carrousel area might be an interesting spot for them. Or for you? :) By the way, a nudist beach is present, too. :) The entrance fee is 50 CZK for adults and 30 CZK for children. To get there, the best way is taking the subway to the station Andel (line B – that's the yellow one) and then tram Nr. 7, 9 or 10 to the station "Motol" or "Vozovna Motol", then there's a short walk. Oh come on! It's not gonna hurt you... :-P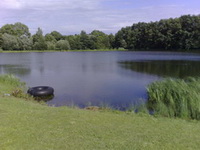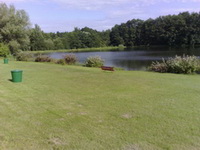 Seberak
Seberak is a pool in the city part Kunratice. It's got a grassy shore, the bottom of the pool is partly stony but mostly sandy. Also here you can spend your non-bathing time by fooling around with a tennis racket or a table tennis paddle, taking a shower or letting your children play in the kids' area. You might appreciate wi-fi internet in the Seberak area. The prices are 50 CZK for adults, 30 CZK for children. Now, how to get there... You'd like to know, huh? Okay, I'll tell ya.. Get on the subway heading to the station Kacerov (line C – the red one) and catch the 114 bus. Leave the bus as soon as it gets to the station "Seberak" – it's the very last station, you can't miss it. :)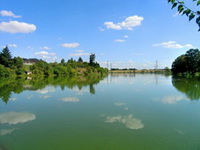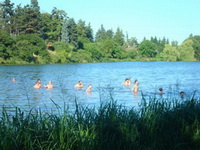 Hostivar
Last but not at all least, there's the Hostivar dam in Prague 10 to bathe. It's located in a kind of forest park and there are two beaches waiting for you, both partly sandy and partly grassy. There's a wide range of activities to do: from all mentioned at the previous pools to windsurfing, sliding down the tobogan, or again a nudist beach. You can get there by bus from the subway station Haje (on the red C line) to the final station Jizni Mesto, followed by a walk of about 10 minutes.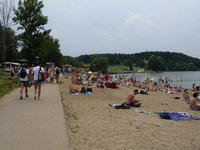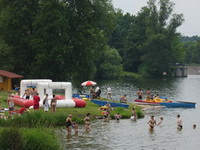 You could be interested also in
Welcome at Mary's news Prague Blog. You can find here many actual and useful information about news in Prague, Prague sights, festivals, concerts, events and many other Czech news. Do not hesitate and comment the blog posts, recommend it to your friends through Facebook, or even send us tips of interesting topics you would like to read about in this blog about Prague. We offer awesome Old town Prague apartments or modern luxury apartments in New town.
Other Prague blogs
Other Czech Republic blogs