Piloting Boeing 737 in Prague
07.07.10 10:38
I love flying. I've been amazed by the world of aircrafts and pilots since I was a little kid. With that said, you can probably imagine how surprised I was when I found out there was a stunningly realistic airplane cockpit simulator in Prague.
It's a hardly believable story – you're gonna like it... Mr. Radek Topinka was such a root fan of flying that he decided to put a cockpit of a Boeing 737 right into a kitchen. No kidding... You enter the apartment in Budapestska street and the first thing you see is this huge monster construction right next to his kitchen unit. It's a real size copy of the cabin where real pilots sit when they're taking you from one airport to another. And here comes another interesting thing: most of the levers, screens and buttons you see there were truly made by the Boeing Corporation fortheir aircrafts!
Here is how it starts: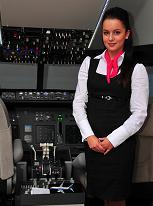 You make a reservation at least one week ahead on the number +420 724 512 343 and you arrange yourself a date for the flight. You can also get yourself a gift voucher.
When you come, you will be welcomed by an excellent looking and beautifully smiling stewardess and asked what you want to drink during the flight. No, you cannot get yourself a scotch before piloting an airplane... ;)
So you're sitting in that comfortable chair, these crazy controllers all around you and a professional pilot of Czech Airlines right next to you, telling you what to do to take off. Way to remember all that... But for the first time, you're all good with pushing the engine throttle up to about 40%. That's fun. Oh no, it's really starting to move... The large canvas in front of you and by your sides where all the outside graphics happens is clearly trying to let you know that you're moving. And it moves faster and faster. Although the chair you're sitting on is static, you start feeling slightly dizzy, just like in a real airplane. Suddenly it happens: the plane is fast enough to take off the ground and all you see is blue as the machine ascends with 15° to the sky.
Well that was the takeoff story. I'm gonna keep the flight story and the landing story a secret from you. It's something you simply have to go through to believe it. If you like flying and aircrafts at least a little bit, don't hesitate to try it out. And you bet your pilot's license that you will be amazed at least as much as I was. :) Let's see if you're gonna be more successful on the landing than me: it took me 3 trials not to break the plane in pieces. :) Not something I would be proud of. If those were real 737s, I would most probably have a lot to explain. :)
For 3.990 CZK (approx. 160 EUR) you get a 15-minute instruction tutorial by a professional pilot and 60 minutes of trying to take off/fly/land or do whatever you want to including turning the Boeing upside down. :) You're allowed to take photos and you will be offered a DVD with a record of your whole flight for 500 CZK. You can also bring up to 2 buddies to share your experience with.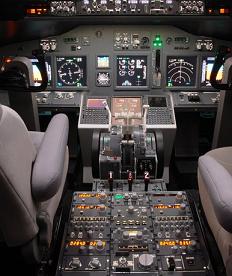 You could be interested also in
Welcome at Mary's news Prague Blog. You can find here many actual and useful information about news in Prague, Prague sights, festivals, concerts, events and many other Czech news. Do not hesitate and comment the blog posts, recommend it to your friends through Facebook, or even send us tips of interesting topics you would like to read about in this blog about Prague. We offer awesome Old town Prague apartments or modern luxury apartments in New town.
Other Prague blogs
Other Czech Republic blogs