New Pension in Cesky Krumlov - Pension Na Ostrove
11.09.07 12:40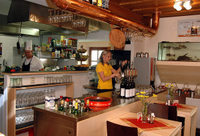 We would like to welcome all our guests to spend the night in the new pension in Cesky Krumlov. The Na Ostrove Pension can accommodate up to 17 people, but it has a restaurant for 30, and two terraces from which there is a marvellous view of the Castle, the Castle Tower and the River Vltava.
Cesky Krumlov is a fascinating small town, surely has to be seen if You visit the Czech Republic! For more information feel free to ask our colleagues.
You could be interested also in
Welcome at Mary's news Prague Blog. You can find here many actual and useful information about news in Prague, Prague sights, festivals, concerts, events and many other Czech news. Do not hesitate and comment the blog posts, recommend it to your friends through Facebook, or even send us tips of interesting topics you would like to read about in this blog about Prague. We offer awesome Old town Prague apartments or modern luxury apartments in New town.
Other Prague blogs
Other Czech Republic blogs