30% discount for Mary's Apartments until the end of August!
12.06.08 08:12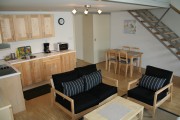 We are happy to inform You that we can offer further discounts to You if You ask for accommodation in one of our Mary's Apartments in Prague!!
For reservations made from today, for accommodation until the end of August in one of the Mary's Apartments we offer 30% discount!!
If You plan to stay in Prague during the summer, apartments are the best choice for You. Comfortable, cosy rooms, fully equipped kitchen means surely more place for You (and your family) than You would have in a regular hotel room. Modern, new furniture, very good location now for a very good price!
For more information ask our collegues.
You could be interested also in
Welcome at Mary's news Prague Blog. You can find here many actual and useful information about news in Prague, Prague sights, festivals, concerts, events and many other Czech news. Do not hesitate and comment the blog posts, recommend it to your friends through Facebook, or even send us tips of interesting topics you would like to read about in this blog about Prague. We offer awesome Old town Prague apartments or modern luxury apartments in New town.
Other Prague blogs
Other Czech Republic blogs