Martinic Palace in Prague opens to public
11.10.07 15:44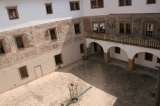 Renaissance Martinic Palace near Prague Castle opens to public. You can see opulent sgraffito ornamentation and desk ceilings. The guides also explain how the people lived in Prague during the Renaissance era. The building is a part of Prague UNESCO reservation.
Ivitsa

wrote at 21.12.2017 01:06
Good morning. That's great news! Im waiting for 5 years to visit that palace! Can you please tell me HOW and WHEN is possible to visit the palace. Kind Regards.
Comment This Post:
Also in this category:
Best Prague gardens
Welcome to CIRQUE de GLACE!
Jazz Dock
Back to blog list
You could be interested also in
Welcome at Mary's news Prague Blog. You can find here many actual and useful information about news in Prague, Prague sights, festivals, concerts, events and many other Czech news. Do not hesitate and comment the blog posts, recommend it to your friends through Facebook, or even send us tips of interesting topics you would like to read about in this blog about Prague. We offer awesome Old town Prague apartments or modern luxury apartments in New town.
Other Prague blogs
Other Czech Republic blogs