Have fun at the folklore evening
23.11.10 16:48
I am going to describe you a situation which is probably familiar to anyone who has been on a city break before. The time is always our enemy and we have just a couple of days to find out everything about the history, culture and famous sights. So we walk whole days in the city center with the tourist guide in our hands, from one monument to another, take thousands of photos standing on the Charles bridge, with the Prague Castle in the background or smiling near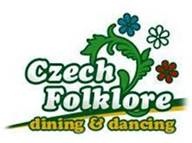 the statue of St. Wenceslas… And in the evening we have a dinner in one of the many restaurants of the Old Town, than go "home" to the hotel room or apartment and relax our sour feet, preparing them for the next day.
Meanwhile we forget that this magnificent city is built by its inhabitants. That the atmosphere is defined by them. And if You go home without trying to get to know them a bit, You will feel as if You were just window-shopping – You miss the essence of your stay. You can catch some of the feeling in the restaurants – of course if You find the right place. But by running from sight to sight, without a real experience, the memories will pass soon. And You will have the feeling that You have spent long days in the city, but it wasn't a great advanture in the end. Nothing special to tell to your friends, except that it was beautiful.

But we have a tip for You for having a a really memorable evening - just consider our advice.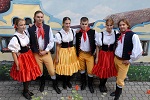 Firstly I would like to ask you to mention the three most important things without which you can not imagine a perfect night… ok, I will help you, because I guess our lists will have some similar points - I have the four most important ones right away:
a good drink
a delicious meal
an interesting performance with pleasant people
and least but not last a great atmosphere

Now, I will tell you our secret.

WE KNOW WHERE YOU CAN FIND ALL OF THIS IN ONE SPOT!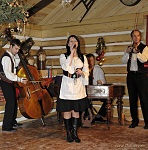 Folklore garden is the place, that will offer You all of this and even more!


taste the traditional Czech honey made liqueur Medovina and get unlimited amount of world-known Czech beer, tasty Moravian wine (or have soft drinks if You would like to)
try the typical Czech cuisine – the specialities are brought to you from the medieval times
get to know the Czech culture and people better by enjoying the folklore performance of the young couples dancing to the rhythm of the traditional Czech music … and if You feel to – sing and dance with them!
have a great time during the three-hour long, unforgettable atmosphere! You will know what I am talking about
After enjoying the above mentioned great couple of hours just have to make sure you have your camera (and your partner :-) ) and get on the bus, which will take you back to the hotel.

If You would like to try out this unforgettable programme, just contact us and we will reserve place to this programme for You!


yunyun


wrote at 06.07.2011 10:04
I contact blog just a few days .In the a few days ,I visit many blogs .But yours give me a deep impression .Because I like your nature .
Comment This Post:
Also in this category:
Beer Museum in Prague
Spring and Flowers
New York University in Prague – the best traditions of American education in Europe!
Back to blog list
You could be interested also in
Welcome at Mary's news Prague Blog. You can find here many actual and useful information about news in Prague, Prague sights, festivals, concerts, events and many other Czech news. Do not hesitate and comment the blog posts, recommend it to your friends through Facebook, or even send us tips of interesting topics you would like to read about in this blog about Prague. We offer awesome Old town Prague apartments or modern luxury apartments in New town.
Other Prague blogs
Other Czech Republic blogs