Chateau Mcely - the first EU - ECO labelled ***** hotel in the Czech Republic
10.04.08 13:10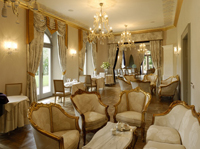 The Cheteau Mcely just became the first five star hotel in the Czech Republic and the second one in the whole European Union that was awarded by the European Eunion with the EU-ECO Label for having the most environmental-friendly solutions for its heating, hot water supply and so on. For the interview with its owner visit the website of the Czech Radio. If You would like to book a room in this unique and beautiful hotel, just ask our colleagues for help.
You could be interested also in
Welcome at Mary's news Prague Blog. You can find here many actual and useful information about news in Prague, Prague sights, festivals, concerts, events and many other Czech news. Do not hesitate and comment the blog posts, recommend it to your friends through Facebook, or even send us tips of interesting topics you would like to read about in this blog about Prague. We offer awesome Old town Prague apartments or modern luxury apartments in New town.
Other Prague blogs
Other Czech Republic blogs