United Islands of Prague 2008
05.06.08 14:17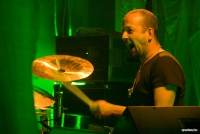 In 13 days the biggest annual music festival of Prague, the United Islands of Prague opens its gates again. This is the fifth year when You can enjoy the outdoor concerts of more than 25 music groups from all over the world.
The programme starts on 19 June in the clubs in Prague centre, this evening You can hear new Czech music groups performances.
On the last day, on Saturday, 21 June You can choose from the 3 islands in Prague, 4 scenes on them, from wide range of music (from hip-hop to world music). The programmes will be going on from midday until 10 pm. You will have the possibility to hear such great groups as the Spanish La Shica, French No Jazz, Austrian Bauchklang, the Czech Toxique or the Hungarian Quimby - FOR FREE!!
If You are in Prague, do not miss this event, it has always a great atmosphere!
You could be interested also in
Welcome at Mary's news Prague Blog. You can find here many actual and useful information about news in Prague, Prague sights, festivals, concerts, events and many other Czech news. Do not hesitate and comment the blog posts, recommend it to your friends through Facebook, or even send us tips of interesting topics you would like to read about in this blog about Prague. We offer awesome Old town Prague apartments or modern luxury apartments in New town.
Other Prague blogs
Other Czech Republic blogs