The Strings Of Autumn Festival in Prague
02.10.07 11:32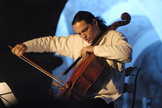 The Strings of Autumn festival www.strunypodzimu.cz will fill Prague´s concert halls with a surprising blend of jazz and classical music. Portuguese fado musician, Ana Moura, and the American jazz violinist, Regina Carter, will be performing in the Czech Republic for the first time. Pianist Brad Mehldau will return to the Rudolfinum after last year´s successful performances. The Strings of Autumn serves up a colourful menu of music in a way which reflects today´s music scene. The programme is created as a unique show. From 23rd of September till 18th of November.
You could be interested also in
Welcome at Mary's news Prague Blog. You can find here many actual and useful information about news in Prague, Prague sights, festivals, concerts, events and many other Czech news. Do not hesitate and comment the blog posts, recommend it to your friends through Facebook, or even send us tips of interesting topics you would like to read about in this blog about Prague. We offer awesome Old town Prague apartments or modern luxury apartments in New town.
Other Prague blogs
Other Czech Republic blogs