Stomp in Prague, 8 - 13 April every day!
02.04.08 10:19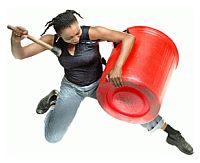 The STOMP arrives to Prague again!! This great performance should be seen by everybody who likes rythm, dance, music, drums, drums and a little more drums made from anything.
Tickets can be bought via Ticketpro portal.
Don't miss this unique show!!!
You could be interested also in
Welcome at Mary's news Prague Blog. You can find here many actual and useful information about news in Prague, Prague sights, festivals, concerts, events and many other Czech news. Do not hesitate and comment the blog posts, recommend it to your friends through Facebook, or even send us tips of interesting topics you would like to read about in this blog about Prague. We offer awesome Old town Prague apartments or modern luxury apartments in New town.
Other Prague blogs
Other Czech Republic blogs