Spanish Prague exhibition in the Prague Castle
16.03.09 11:39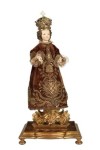 This unique exhibition is describing the great significance of the Spanish Culture on Czech Republic during the 16-18. century. It is commonly said that mainly the Italian Culture had influence on the Czech during these centuries, but as You will see, since Habsburg Ferdinand I was born and raised in Spain, Rudolf II also raised partly in Spain, they brought a lot of this beautiful culture with themselves.




You could be interested also in
Welcome at Mary's news Prague Blog. You can find here many actual and useful information about news in Prague, Prague sights, festivals, concerts, events and many other Czech news. Do not hesitate and comment the blog posts, recommend it to your friends through Facebook, or even send us tips of interesting topics you would like to read about in this blog about Prague. We offer awesome Old town Prague apartments or modern luxury apartments in New town.
Other Prague blogs
Other Czech Republic blogs