Cartier in Prague
09.09.10 09:57
You can find yourself in the world of luxury and shining diamonds – if You come to Prague nowadays. The Cartier Exhibition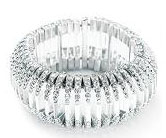 which is held in Prague Castle Riding Hall offers a great chance to see the production of one of the most famous jewelers in the world who are the major jewels provider of many royal families as well.
Short history: The Cartier House has been founded in 1847 and quickly gained worldwide fame. Cartier´s designers were always constantly searching for new shapes and ideas, they truly were artisans and great masters... Which probably also is a key to the Cartier House success. Cartier Accessories, jewelry and watches had since become the essential part of successful people´s life of the past centuries.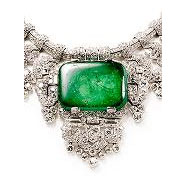 The exhibition is named "The power of Style" - so you know what to expect there :) Each of the exhibited 350 items represents a real work of art. Most of them have already become a Cartier's classic.
In addition, organizers provide profound information about the Cartier House's history, about the different influences it came through, some facts and pictures of the Cartier's regular clients (among which were royal families in Europe, Russia, India and Arab Emirates). Each piece of jewelry you will see has its own story. You will also have a chance to see a documentary about Cartier House and the technique of jewelry production as well as the original sketches from the beginning of 20th century.
The whole impression is very powerful!! So do not hesitate and plan when will you visit it – you still have a time, the exhibition will be held till October 17, 2010. Mary's Travel will be pleased to assist you with tickets booking.

A short recapitulation of the practical information:
Venue: Prague Caste Riding Hall – U Prašného mostu street, Prague 1
Opening hours: daily from 10am till 6pm
Entrance fees on the spot: 375,-CZK/adult and 195,-CZK /student, child (7-15 years old), senior
Entrance fees via Mary's Travel: 300,-CZK/adult and 190,-CZK /student, child (7-15 years old), senior
Ticket can be reserved by email and picked up in the Mary's Office at Italska 31, Prague 2.
fakesunglassesforsale


wrote at 03.02.2012 03:32
Oakley Sports performance sunglasses continue to make their mark on with world of sport. Fake oakley sunglasses contains into many kinds of style, Oakley Active Sunglasses - Bulldogs of art and technology or easygoing sunglasses with a smooth edge of attitude for your active lifestyle. Oakley lifestyle sunglasses is designed by the eye wear leader the oakley sunglasses outlet designers would be very eye protective and comfortable for wearing. Oakley Women Sunglasses put that attitude on display by blending style with the unmistakable look of conviction. All Oakley Polarized Sunglasses are not created equally, but this much is clear: Oakley produces the best polarized lenses on earth. Oakley Sunglasses AAA are the top quality replicas compared to others all over the world. The fake oakley sunglasses in our lifestyle collection do both.
Comment This Post:
Also in this category:
Cartier in Prague
Brussels Flower Carpet in Prague
Expolingua Fair in Prague
Back to blog list
You could be interested also in
Welcome at Mary's news Prague Blog. You can find here many actual and useful information about news in Prague, Prague sights, festivals, concerts, events and many other Czech news. Do not hesitate and comment the blog posts, recommend it to your friends through Facebook, or even send us tips of interesting topics you would like to read about in this blog about Prague. We offer awesome Old town Prague apartments or modern luxury apartments in New town.
Other Prague blogs
Other Czech Republic blogs