Re-evolution - the exhibition of the Cracking Art Group in the Kampa Museum, Prague
05.08.08 16:27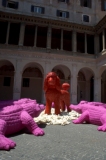 This exhibition in Museum Kampa presents installations of larger than life brightly coloured animal sculptures - with a peculiar sense of humour. The group of six artists - Alex Angi, Kicco, Marco Veronese, William Sweetlove, Renzo Nucara and Carlo Rizzetti is bringing to Prague a simple artistic expression, which is markedly linked to the wave of European new realism (emerging from the poetry of Dadaism and Pop art).
The Museum Kapma can be found on the Kampa Island, U Sovových mlýnů 2, Prague 1 and is opened daily from 10 am to 6 pm.
You could be interested also in
Welcome at Mary's news Prague Blog. You can find here many actual and useful information about news in Prague, Prague sights, festivals, concerts, events and many other Czech news. Do not hesitate and comment the blog posts, recommend it to your friends through Facebook, or even send us tips of interesting topics you would like to read about in this blog about Prague. We offer awesome Old town Prague apartments or modern luxury apartments in New town.
Other Prague blogs
Other Czech Republic blogs