Prague Food Festival at Museum Kampa
31.08.07 08:41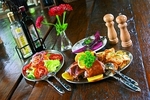 Celebration of gastronomy, great food, the culinary art of the best chefs in Prague - that all is the Prague Food Festival. During these three days You can taste the masterpieces of 30 well-selected Prague restaurants, You can try the Czech, Brazilian, Japanese, French and Mediterran specialities, accompanied by adequate music. Among the restaurants featuring on the event You can find the Ambiente chain, the Restaurant Bellevue, Cafe Imperial, Cafe Savoy, Lvi Dvur, Kogo, La Provence and many others. It is a unique opportunity, do not miss it! And do not forget to visit the Andy Warhol exhibition which takes place in the same venue, the Museum Kampa.
You could be interested also in
Welcome at Mary's news Prague Blog. You can find here many actual and useful information about news in Prague, Prague sights, festivals, concerts, events and many other Czech news. Do not hesitate and comment the blog posts, recommend it to your friends through Facebook, or even send us tips of interesting topics you would like to read about in this blog about Prague. We offer awesome Old town Prague apartments or modern luxury apartments in New town.
Other Prague blogs
Other Czech Republic blogs