Prague Food Festival 2008
20.06.08 11:07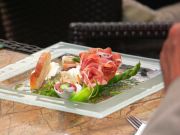 From today for two days You can taste the delicates prepaired by the best chefs again! The Prague Food Festival 2008 will be held this time on the Slovasky Island and the Zofin hall, from 20-22 June, every day from 12pm to 10pm.
The festival, the "celebration of gastronomy" displays more than 30 top Czech restaurants, each day You can taste the best meals of 12 of them. Just some details from the last event - Café Imperial consumed 100 kilograms of beef cheeks, Ambiente prepared 150 kg of meat on Saturday alone and Radisson SAS, Alcron sold 80kg of veal knees, 30kg of boletus and chanterelle mushrooms, 20kg of tuna, 10kg of tiger prawns and 700 mini desserts. A total of 5,000 litres of drinks were consumed - according the information from the organisers
For information about the tickets please visit the official website of the festival.
Harrold
wrote at 24.09.2013 23:41
See that the website was not shown. http://www.foodfestivalseurope.com/
Harrold

wrote at 24.09.2013 23:40
When a new date for 2014 is known, we will publish this on our food festivals europe site
Comment This Post:
Also in this category:
Cartier in Prague
Brussels Flower Carpet in Prague
Expolingua Fair in Prague
Back to blog list
You could be interested also in
Welcome at Mary's news Prague Blog. You can find here many actual and useful information about news in Prague, Prague sights, festivals, concerts, events and many other Czech news. Do not hesitate and comment the blog posts, recommend it to your friends through Facebook, or even send us tips of interesting topics you would like to read about in this blog about Prague. We offer awesome Old town Prague apartments or modern luxury apartments in New town.
Other Prague blogs
Other Czech Republic blogs