Port Festival in Nymburk
31.07.09 10:49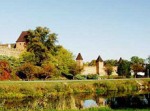 The wheather should be nice this weekend so do not stay in the city, take a tour rather to the surrounding towns and countryside!
There will be a nice program for example in Nymburk (54 km from Prague) on Saturday, 1st August 2009. The Port Festival will be held with watercraft show, music performances, cruises and so on. Nymmburk is also well known for its historical background, medieval buildings, so You surely won't be bored.
We wish You a nice time:)
Venue Details


wrote at 02.05.2011 09:26
Justdial Events - Find comprehensive information about Local Shows, Plays, Musical Concerts, Performing Arts, and Business Events. Call 1-800-500-0000 for more information
Comment This Post:
Also in this category:
Cartier in Prague
Brussels Flower Carpet in Prague
Expolingua Fair in Prague
Back to blog list
You could be interested also in
Welcome at Mary's news Prague Blog. You can find here many actual and useful information about news in Prague, Prague sights, festivals, concerts, events and many other Czech news. Do not hesitate and comment the blog posts, recommend it to your friends through Facebook, or even send us tips of interesting topics you would like to read about in this blog about Prague. We offer awesome Old town Prague apartments or modern luxury apartments in New town.
Other Prague blogs
Other Czech Republic blogs