Nokia Freestyle Motocross
06.11.07 12:04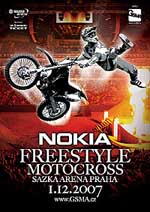 The 8th annual Nokia Freestyle Motocross - Nokia FMX Gladiator Games 2007 will be on 1st December held again in Prague, as usually, in the Sazka Arena. The world freestyle motocross show, full of adrenaline and unbelievable tricks brings entertainment for a lot of people. The best freestyle motocross riders are heading to Prague together with the Czech Petr Pilat, the only sixteen year old rider, who performed as a youngest man in the history of the Gladiaor Games the dangerous backflip two years ago.
We wish You an enjoyable day!
You could be interested also in
Welcome at Mary's news Prague Blog. You can find here many actual and useful information about news in Prague, Prague sights, festivals, concerts, events and many other Czech news. Do not hesitate and comment the blog posts, recommend it to your friends through Facebook, or even send us tips of interesting topics you would like to read about in this blog about Prague. We offer awesome Old town Prague apartments or modern luxury apartments in New town.
Other Prague blogs
Other Czech Republic blogs