International Music Festival in Cesky Krumlov
16.07.08 14:57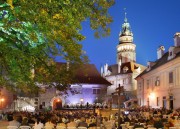 We would like to invite You to an other music festival - this time to the International Music Festival in Cesky Krumlov. This lovely city hosts the festival for the 17th time this year. You can enjoy the concerts on eight surroundings - operas, symphonys, chamber music, jazz and musicals, and so on. The main host will be Greece, You can taste not just their music but either their delicious food.
The opening concert will take place in The Chateau Garden - Summer Riding School on 18th July at 7.30pm, the concert is called "Love and Death". But if You could not get there until Friday, do not be afraid that You missed it, the festival will go on until mid August. For the detailed programme visit their website, for finding suitable accommodation there do not hesitate to ask our collegues .
You could be interested also in
Welcome at Mary's news Prague Blog. You can find here many actual and useful information about news in Prague, Prague sights, festivals, concerts, events and many other Czech news. Do not hesitate and comment the blog posts, recommend it to your friends through Facebook, or even send us tips of interesting topics you would like to read about in this blog about Prague. We offer awesome Old town Prague apartments or modern luxury apartments in New town.
Other Prague blogs
Other Czech Republic blogs