International Book Fair and Literary Festival in Prague
23.04.08 08:39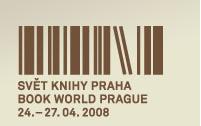 The annual, 19th Book World Prague 2013 opens its doors on 16th May in the Industrial Palace Prague, Holesovice Exhibition Grounds. The aim of the book fair is to draw attention to the new book releases - for commercial and educational purposes as well.
There are 2 themes for this year:
The Diversity of Poetry
Books we can't put down
This years guest of honor is Slovakia.
You could be interested also in
Welcome at Mary's news Prague Blog. You can find here many actual and useful information about news in Prague, Prague sights, festivals, concerts, events and many other Czech news. Do not hesitate and comment the blog posts, recommend it to your friends through Facebook, or even send us tips of interesting topics you would like to read about in this blog about Prague. We offer awesome Old town Prague apartments or modern luxury apartments in New town.
Other Prague blogs
Other Czech Republic blogs