Hervis Prague Half Marathon this weekend
28.03.08 10:56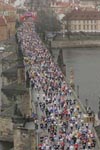 This time we inform You about the 10th annual Hervis Prague Half Marathon that will take place in the centre of Prague this Saturday.
The half marathon is a very good sport activity for those who like to attend long distance running competitions, it is a very interesting sight for those who will be in Prague this weekend and will be walking in the center (the weather is supposed to be very nice for a change:) ), and it is a good to know information for those who would like to ride a car in the center... rather do not try to do that on Saturday:)
The half marathon attended 4 456 participants last year, this year the number is supposed to be even higher.
"Run and enjoy the view of Charles Bridge, Rudolfinum Concert Hall, National Theatre, Vyšehrad, Prague Castle and all the most beautiful sites of Prague's historic center."
You could be interested also in
Welcome at Mary's news Prague Blog. You can find here many actual and useful information about news in Prague, Prague sights, festivals, concerts, events and many other Czech news. Do not hesitate and comment the blog posts, recommend it to your friends through Facebook, or even send us tips of interesting topics you would like to read about in this blog about Prague. We offer awesome Old town Prague apartments or modern luxury apartments in New town.
Other Prague blogs
Other Czech Republic blogs