Finlandia Midnight Sun
23.06.09 15:19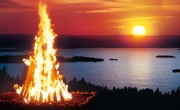 Celebrate the upcoming summer time on the Branicka Louka (Branik Meadow) on 25 June 2009 with bands such as Apocalyptica, Support Lesbiens and DJ Lucca. The programme of Finlandia Midnight Sun will start at 6pm and go on until midnight, tickets can be bought via Ticketstream for 199 CZK.
You could be interested also in
Welcome at Mary's news Prague Blog. You can find here many actual and useful information about news in Prague, Prague sights, festivals, concerts, events and many other Czech news. Do not hesitate and comment the blog posts, recommend it to your friends through Facebook, or even send us tips of interesting topics you would like to read about in this blog about Prague. We offer awesome Old town Prague apartments or modern luxury apartments in New town.
Other Prague blogs
Other Czech Republic blogs