Exhibition Bodies in Prague
14.06.07 17:16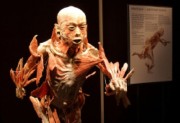 This unique exhibition of the human body arrived to Prague in the beginning of May. It has been already presented in the United States and will be in further European and Asian cities as well. Here in Prague the Lucerna Cultural Centre hosts the exhibition. As You can see true bodies, not just an artificial imitation, people have different opinion about it - some are furiously disapproving it some admire it. It is bizarre for sure... But so unique that even if You do not like the idea, visit this exhibition, You have not seen anything like that in your life!
You could be interested also in
Welcome at Mary's news Prague Blog. You can find here many actual and useful information about news in Prague, Prague sights, festivals, concerts, events and many other Czech news. Do not hesitate and comment the blog posts, recommend it to your friends through Facebook, or even send us tips of interesting topics you would like to read about in this blog about Prague. We offer awesome Old town Prague apartments or modern luxury apartments in New town.
Other Prague blogs
Other Czech Republic blogs