Christmas Carols in the central stations of the Prague Metro
13.12.07 08:47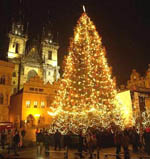 This year the Prague Public Transport System suprised the travellers with a very nice program for the days 19th and 20th December - in two central metro stations - in the Muzeum and Florenc stations You can enjoy choruses singing christmas carols for You, each day from 16.30 until 18.00 o'clock.
For more information about the Christmas in Prague You can find on our
website
. Have a pleasant stay in Prague!
You could be interested also in
Welcome at Mary's news Prague Blog. You can find here many actual and useful information about news in Prague, Prague sights, festivals, concerts, events and many other Czech news. Do not hesitate and comment the blog posts, recommend it to your friends through Facebook, or even send us tips of interesting topics you would like to read about in this blog about Prague. We offer awesome Old town Prague apartments or modern luxury apartments in New town.
Other Prague blogs
Other Czech Republic blogs