Celebrities on the Karlovy Vary IFF in the Czech Republic
02.07.07 15:06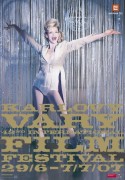 This year the Karlovy Vary International Film Festival presents famous international actors, directors and other well known guests - as they do each year. On the opening day Renee Zellweger, the famous american actress was the biggest star, she was the one who handed over on the opening ceremony the Crystal Globe, to Mr Bretislav Pojar, the great Czech animator.
If You will attend the festival, You can meet guests as Tom Dicillo, Romola Garai, Raz Degan and on the final day, 7 July one more celebrity will appear on the stage - as the Crystal Globe for Outstanding Artistic Contribution to World Cinema will be awarded to the actor, director, and producer Danny DeVito.
You could be interested also in
Welcome at Mary's news Prague Blog. You can find here many actual and useful information about news in Prague, Prague sights, festivals, concerts, events and many other Czech news. Do not hesitate and comment the blog posts, recommend it to your friends through Facebook, or even send us tips of interesting topics you would like to read about in this blog about Prague. We offer awesome Old town Prague apartments or modern luxury apartments in New town.
Other Prague blogs
Other Czech Republic blogs