Carmen - Monumental Opera for the first time in Prague
24.04.08 11:38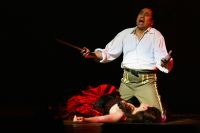 For the first time in the Czech Republic, Carmen, the famous opera from Georges Bizet will be presented in the O2 Arena, Prague. It will be produced as a top class opera production with breathtaking esprit of passion and affection, staged by a renowned director.
To guarantee a high-quality production, You can see and hear the best singers of the Czech Republic as the soloists on stage. The tickets can be bought via Sazkaticket.
You could be interested also in
Welcome at Mary's news Prague Blog. You can find here many actual and useful information about news in Prague, Prague sights, festivals, concerts, events and many other Czech news. Do not hesitate and comment the blog posts, recommend it to your friends through Facebook, or even send us tips of interesting topics you would like to read about in this blog about Prague. We offer awesome Old town Prague apartments or modern luxury apartments in New town.
Other Prague blogs
Other Czech Republic blogs