1000 years of Inca Gold - exhibition in Prague
06.11.08 13:37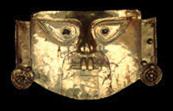 This unique exhibition which arrived to the Czech Republic from its previous exhibition scene in Germany (initially coming from the Museo de Oro in Lima in Peru) presents up to 90 original golden exhibits of the Inca legacy.
You will find jewelleries and mythological ornaments, basic commodities and musical instruments, which were made between 400 BC to 600 AD by the inca goldsmiths. Actually they are on their first "tour" around the globe, as until now they have been displayed only in Peru.
The exhibition opened its gates to the public on 1st November and takes place on the premises of Prague Castle, in Nejvyssí purkrabství Prazského hradu. It will be opened for a few months from 1st of November until the end of March 2009 and is awaiting its guests every day from 10am to 6pm.
You could be interested also in
Welcome at Mary's news Prague Blog. You can find here many actual and useful information about news in Prague, Prague sights, festivals, concerts, events and many other Czech news. Do not hesitate and comment the blog posts, recommend it to your friends through Facebook, or even send us tips of interesting topics you would like to read about in this blog about Prague. We offer awesome Old town Prague apartments or modern luxury apartments in New town.
Other Prague blogs
Other Czech Republic blogs