02 SAZAVAFEST 2007 - VII. – summer open air festival
03.08.07 10:01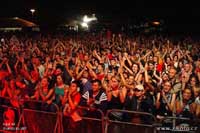 The multicultural and multigenres festival which started just yesterday avaits more than 15 000 guests this year. The SázavaFest offers every year the best from the Czech scene, brings interesting musicians from abroad and at the same time gives space for interesting young bands and projects. The festival takes place from 2-5 August in the city Kacov near Kutna Hora. Tickets can be bought also online on the website of the festival – one day ticket for 650CZK, season ticket for 900CZK. The most known musicians from abroad are Kosheen (UK), Skye (UK), Fernando Saunders (USA), Romano Drom (HU) and many others.
You could be interested also in
Welcome at Mary's news Prague Blog. You can find here many actual and useful information about news in Prague, Prague sights, festivals, concerts, events and many other Czech news. Do not hesitate and comment the blog posts, recommend it to your friends through Facebook, or even send us tips of interesting topics you would like to read about in this blog about Prague. We offer awesome Old town Prague apartments or modern luxury apartments in New town.
Other Prague blogs
Other Czech Republic blogs