The biggest shopping centre has been opened in the centre of Prague
02.11.07 08:46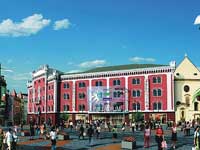 Last week
Palladium
, the new shopping centre has been opened in the very heart of Prague, on the Square Namesti republiky.
You can find here numerous shops (over 200) on 4 floors, 3 floors for parking, offices and flats for rent, 26 restaurants and caffeterias. The shopping centre is open from 9am to 10 pm each day, the supermarket from 7am to 10 pm.
We wish You pleasant shopping for Christmas:)
You could be interested also in
Welcome at Mary's news Prague Blog. You can find here many actual and useful information about news in Prague, Prague sights, festivals, concerts, events and many other Czech news. Do not hesitate and comment the blog posts, recommend it to your friends through Facebook, or even send us tips of interesting topics you would like to read about in this blog about Prague. We offer awesome Old town Prague apartments or modern luxury apartments in New town.
Other Prague blogs
Other Czech Republic blogs