650th anniversary of the Charles Bridge in Prague
28.06.07 11:07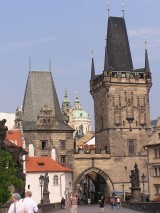 Huge celebrations will be held in Prague on the days 6-9 July – the famous medieval bridge, the Charles Bridge in Prague will celebrate its 650th anniversary. If You visit the city at this time, You can enjoy the atmosphere of the earlier centuries, medieval music, knights tournaments, concerts on bridge boats right under the Charles Bridge.
The celebrations will start on the Old Town Square and will be held on numerous other locations in the heart of Prague - for example on the Charles Bridge as well of course.
Come and see the city on this unique occasion. For accommodation do not hesitate to contact our collegues.
You could be interested also in
Welcome at Mary's news Prague Blog. You can find here many actual and useful information about news in Prague, Prague sights, festivals, concerts, events and many other Czech news. Do not hesitate and comment the blog posts, recommend it to your friends through Facebook, or even send us tips of interesting topics you would like to read about in this blog about Prague. We offer awesome Old town Prague apartments or modern luxury apartments in New town.
Other Prague blogs
Other Czech Republic blogs