Laundry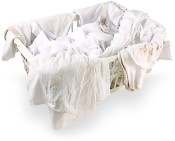 There are not too many laundries in Prague since Czechs just rarely use public laundry services. The easiest way to deal with the problem is to hand over your laundry to your hotel maid. Otherwise you may want to visit one of the branches of LAUNDRYLAND in Prague, e.g.:
You can also arrange laundry collection and delivery on the above mentioned numbers.
Another options

Whether you are looking for classical public self service launderette, you may want to visit following centers:
For further information about location, facilities or prices, please, use the enclosed enquiry form or
travel@marys.cz
email address to contact us.