To/from Prague by train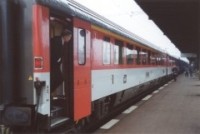 There are two international train stations in Prague and two other large stations which service mostly local destinations. Therefore, allways make sure you know which station your train is leaving from.
Also, always compare the prices and travel times of buses and trains when planning trips outside Prague. In many cases, bus ticket prices are much lower, however usually the traveling takes more time.
All lines are provided by state-run rail system Ceske drahy (CD) – Czech railways. For an idea about the price range, an example: a second-class ticket from Prague to Brno (about 250 km), cost about 300-400 Kc (depends on which train you take: EuroCity, SuperCity or regular Express).
Train schedules (need to change the language to english)
Official website of Czech railways
Prague train stations
Hlavni Nadrazi Train Station
Wilsonova, Prague 2
Prague's main railway station (Hlavni Nadrazi) is the largest and most important railway station in Prague and in the whole Czech Republic as well, located about 300m east of Wenceslas Square via Washingtonova street.
It has a long history as it operates from 1871. The station is an international transport hub, handling train lines to Germany, France, Poland, Slovakia and also to all the larger Czech cities.
Getting to the station is very easy as the station lies on metro Line C (red line), and is just one stop from the top of Wenceslas Square (Muzeum station). Although if you have a lot of luggage, we recommend you to use a taxi service.
Nadrazi Holesovice Train Station
Partyzanska, Prague 7
International railway station Nadrazi Holesovice is Prague's second largest. Usually the trains from the West and the North arrive here, most frequently it is the point of departure for trains heading to Berlin, Vienna, and Budapest.
This station is not as central as Hlavni Nadrazi but it is still very convenient to get there. It is located on the same metro line (Line C - red line) as the main railway station, so only few minutes to the city centre. If you don't stay in a hotel or apartment in the city centre, we highly recommend you to use a transfer service from and to this railway station.
Masarykovo Nadrazi Train Station
Hybernska, Prague 1
Masaryrikovo Nadrazi is the oldest railway station in Prague, located near namesti Republiky in the city center and very close to Hlavni Nadrazi. As Masarykovo Nadrazi services mostly suburban destinations, it is not so interesting for foreign travellers.
Smichovske Nadrazi Train Station
Nadrazni, Prague 5
Nadrazi Praha-Smichov or Smichovske Nadrazi is one of the more important railway stations in Prague, located in the district of Smichov. Getting there is very easy as the railway station is connected with a metro (the same name – Smichovske Nadrazi, yellow line, line B), but never forget to consider a taxi.
This train station connects Prague with cities in the direction of Plzen and Pisek. Furthermore it has a so-called Northern station which serves for the famous line – Prague Semmering. This train station is mainly used by Czech citizens when going to work out of or coming to Prague, but as a guest you will have to use it if you want to visit Karlstejn or some other famous sightseeing places.