The new cinema 4DX
06.08.2013, Maria Jagerova
The first 4DX cinemas were opened in South-Korea in 2009, but since then you can find them in 11 different countries, including the Czech Republic. There have been only around one hundred "Hollywood movies" made with this motion picture technology, but don't worry, there are more to come! Most of these are action movies, but the list also contains other genres, like family movies, comedies or sci-fi.
Who wouldn't recognize the famous movies, like the Avengers, Avatar, Transformers, Iron Man, Fast & Furious 6 and many others? And who wouldn't like to see them in this way? If you belong to the people that had enough of common normal movies in normal cinemas, the 4DX cinema is perfect for you!
The 4Dx movies let you to be part of them - or to be honest, you don't have any other choice

From personal experience from our team we know, that you can feel everything: the audience seats are moving in all directions (depending on what is happening on screen), a special equipment sprinkles the audience with filtered water, when it is raining in the movie, you feel the wind blowing and smell the coffee the main actors and actresses are drinking in the morning.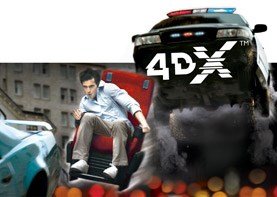 The tickets for a movie in 4DX cost around 300 CZK.
So I guess there is nothing to think about! Visit the Cinema in Novy Smichov in Prague and take your part in the movie. If I were you, I wouldn't miss e.g. sitting on the back seat in Fast & Furious 6 or climbing on the walls with Spider-Man

...