Online Booking
You can see right away the number of rooms available for the online reservation (Payment "now").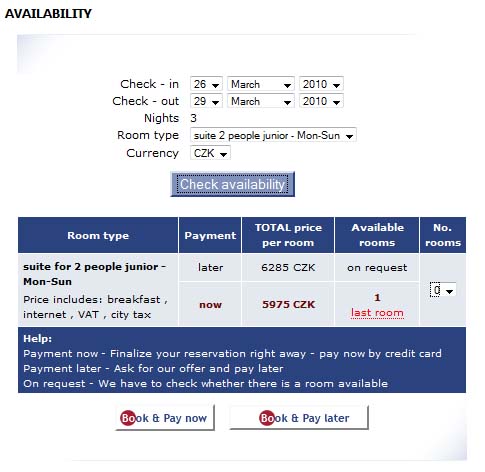 After clicking on the Book & Pay now, fill in and send the ACCOMMODATION REQUEST FORM. The procedure has 4 steps highlighted at the top for an easy orientation.

Note that any required unfilled fields will not let you proceed to another part of the form therefore take your time and do not rush your decisions.

The last step will be the online payment itself, on the secure website of the Ceska Sporitelna a.s. Bank. The details of the credit card will be seen only by the bank. If the payment will go through, the bank will inform us about that and we will finalize Your reservation in the chosen hotel and send You the Voucher with which You can check-in at arrival.